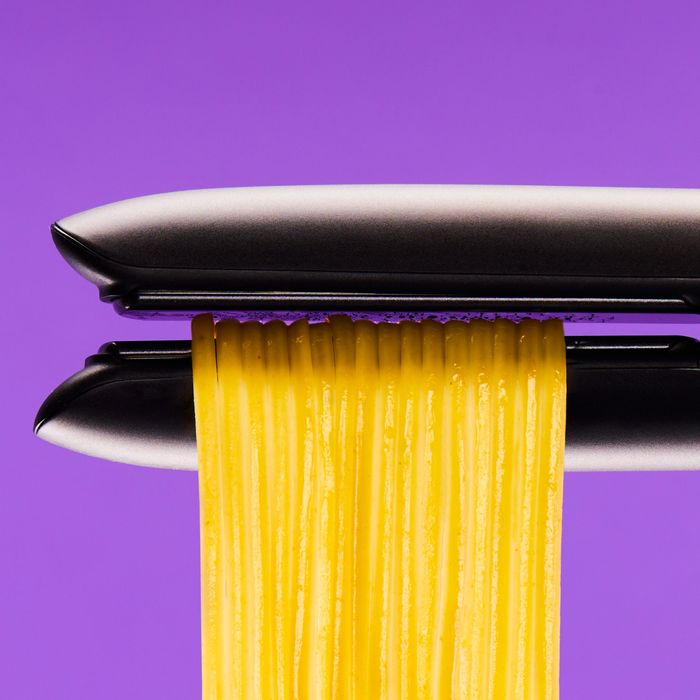 Flat irons are pretty straightforward, but a few key characteristics really can make a difference in performance. A range of heat settings lets you accommodate style and hair texture. A lightweight body is more comfortable and, if you're feeling greedy, dual-voltage flexibility makes your flat-iron travel-abroad ready. Since I've spent most of my time and money trying to add volume to my straight hair, to find the best tools for the job, I polled 14 hairstylists for the models they depend on to give their clients sleek sheets of hair minus the static and the heat damage and tested out a few of their favorites myself.
You'll want to play close attention to a flat iron's heat settings and make sure the ranges are compatible with your hair type. In general, fine or damaged hair types need flat irons that have lower temperature settings — 300 degrees and under — while very coarse or curly hair types will need a flat iron that can reach higher temperatures around 400 degrees to efficiently get hair straight (but if hair is both curly and damaged or fine, you may want to still go for a lower setting). And of course, no matter the temperature you set your iron at, applying a heat protectant before styling is a must.
Kadeisha Placide, the manager and lead stylist at Classic Beauty Studio says that both titanium-plated flat iron and ceramic irons have their place. "Ceramic-plated irons help to eliminate frizz and make heating plates smoother, so they're less likely to pull hair," she explains, making it better for those with thinner hair, while a "titanium hair straightener delivers the fastest heat transfer for immediate and superior results," if you have thick or curly hair.
Selecting the right plate size comes down to your hair length. Those with short styles should choose a flat iron with a one-inch plate, while those with mid-length or long hair should choose a flat iron between 1.25 and two inches.
Best overall flat iron
Temperature: 365 degrees | Plate material: Ceramic | Plate size: 1 inch
Five hairstylists recommended this professional styling iron from GHD, or Good Hair Day. (The U.K. brand was a nearly unanimous favorite among stylists we polled about the best curling iron.) Celebrity hairstylist Luca Blandi, who has worked with clients such as Anne Hathaway and Kate Bosworth specifically loves the brand's Platinum+ models because they are made from a lighter material, which is a godsend for hairdressers who use the tool all day. "It's less strenuous on our body and hands."
Both Blandi and hairstylist Nunzio Saviano appreciate the intuitive heat settings on GHD tools, which max out at 365 degrees (supposedly the optimal temperature for avoiding heat damage) and spread heat evenly through the plates. Michelle Obama's hairstylist, Yene Damtew, uses this flat iron on the former First Lady's hair and loves it because it's sleek and lightweight. She notes that all GHD irons are good for creating "a multitude of hairstyles and producing shape and movement for all hair textures." Since my hair is naturally quite straight, I wasn't sure how much I would appreciate the tool, but it is, after all, called a styler, and I found that it was just as useful for adding beach waves to my hair as it was for straightening it. I was also relieved to find that my hair didn't feel fried afterwards, since the iron is preset to 365 degrees, and that the straightener heated up incredibly quickly. Celebrity stylist Hos Hounkpatin also recommended this iron as one of the best to straighten out natural hair for a silk press because "you don't have to go over the hair as much with it; you can already see with one touch how smooth your hair gets with a beautiful soft shine." According to Brooke Jordan, co-owner of Brooklyn-based salon the Bird House, it works well on a wide range of hair types and always leaves hair looking "incredibly lustrous."
Best (less-expensive) flat iron
Temperature: 250° - 450°F | Plate material: Titanium | Plate size: 1"
Jessica O'Keeffe, a stylist at Hawthorne Studio, says that Izunami is her all-time favorite brand when it comes to flat irons. "Izunami is a Japanese brand, and they produce super-high-quality flat irons with all the newest technology," she says. This model has one-inch titanium plates, which she prefers, and it has the ability to control the temperature. And while this brand might not be as well known as others on this list, O'Keeffe still swears by it and says it's long-lasting too. She uses it every day, multiple times a day, as a stylist, and says her Izunami flat iron has lasted more than five years.
Best flat iron for short hair
Temperature: 240–450 degrees | Plate material: Titanium | Plate size: 1 inch
If your hair is shorter or you want something more precise, hairstylist Felicia Rials of West Hollywood's 901 Salon recommends a mini-iron — specifically, this thin one-inch BaByliss Pro Nano. "I mainly use a flat iron when cutting a bob. It helps me get the hair very straight so I can see what I'm cutting," she explains. "I can also get into the root and hairline to make those baby hairs lie flat." She loves the BaByliss because it's superthin and lightweight but also hot enough — with 50 heat settings — to really smooth the hair. The heat settings make it a great option for straightening naturally curly hair too. Kadeisha Placide, the manager and lead stylist at Classic Beauty Studio notes that the flat iron can get up to 450 degrees, "which really allows the hair to become as straight as possible and leaves a great luster." Mika English, who recommended this flat iron for a silk press, thinks a titanium-plated flat iron is a better option for curly, textured hair than a ceramic-plated one because the metal plates heat more evenly than the clay-based ones. No matter what type of iron you choose, using it with a heat protectant is always recommended. Placide likes using Design Essentials Agave & Lavender Weightless Thermal Protectant Serum during each thermal service.
Best flat iron for long hair
Temperature: 235°F–450°F | Plate material: Ceramic | Plate size: 2"
Should you want longer, wider plates to cover more surface area and length faster, hairstylist Benjamin Muller says this BaByliss Pro is easy to maneuver, and it has a heat index that makes it easy to transition for hair type and texture. He also likes the smoothing effect its ceramic body has on hair.
Best flat irons for a range of hair types
Temperature: 140–450 degrees | Plate material: Ceramic | Plate size: 1.25 inches
Maybe you're a stylist who wants a flat iron that will work on a range of hairstyles, or you need something with higher heat settings that will iron out coarser natural hair. Tym Wallace, a celebrity hairstylist whose clients include Taraji P. Henson, Mary J. Blige, and Yara Shahidi, recommends the FHI Platform irons because of the temperature control settings that go from 140 to 450 degrees. "It straightens hair really well and gives the hair a bounty of shine and is versatile among hair types and styles," he says. (We also hear it's the flat iron Beyoncé uses.)
Best flat iron for frizz


Temperature: 170–450 degrees | Plate material: Ceramic | Plate size: 1.5 inches
This flat iron also gets up to 450 degrees like the FHI above, and Latanya Williams, a stylist with mobile hair salon Yeluchi, recommended this to us when we asked her how to achieve a salon-quality silk press at home, explaining that ionic technology puts this a step above plain ceramic flat irons. Instead of just heating up, ionic tools generate negative ions which keeps the cuticle smooth, which in turn "helps with frizz and locks in moisture, which is ideal," she explains. This one has 24-karat gold ceramic plates that she says help with even heat distribution, and it also has digital temperature controls and auto shutoff. Plus, she adds, "It hydrates hair and can be used to create curls and waves."
Best cordless flat iron
Temperature: 330, 365, and 410 degrees | Plate material: Manganese copper plates | Plate size: 1 inch
If you're straightening your hair often and willing to invest, Huber recommends Dyson. "The Corrale is getting rave reviews," she says. The cordless straightener has intelligent heat control and adjusts its temperature depending on the length, thickness, and texture of your hair. What also sets the Dyson apart from the other flat irons on this list is the use of flexible copper plates that shape and gather hair, allowing you to style with less heat and pressure on the hair strand. When I interviewed vintage Claude Home founder and at-home hair straightening novice Maggie Holladay, she praised the Corrale as a great option for beginners or those who aren't great at styling at home. "I'm so bad at doing my hair. But with this, I can almost make it look like somebody other than me did it," she notes, adding that she finds it to be significantly less damaging compared to other straighteners she's used.
Best flat iron for travel
Temperature: 170–450 degrees | Plate material: Ceramic | Plate size: 1.25 inches
If you want to take your iron with you overseas, you'll want one that's dual voltage like this Amika styler, which resident Project Runway All Stars hair consultant Linh Nguyen recommends as a one-pass iron with 25 percent longer plates. He notes that since it has "ion technology that helps seal the hair cuticle with negative ions" and "an infrared light beam that gets deeper into the hair to keep out frizz," it's ideal for smoothing hair without any flyaways or for creating a wavy, shiny look. Cassadi Currier, stylist and extension specialist at Pembley Joon, says she's always looking for ionic technology when shopping for hot tools for the same reasons. She adds that sealing the hair's cuticles gives you "the shiniest hair possible." She says this flat iron has a lot of other cool features too, including a smart shutoff. In addition to using a heat protectant — her favorite is the Kevin Murphy Young Again serum — she recommends starting with a lower temperature and working your way up to determine how much heat you will really need.
Best ergonomic flat iron


Temperature: 280–450 degrees | Plate material: Ceramic | Plate size: 1.5 inches
People who use a flat iron every day might want something more ergonomic for regular use. In that vein, Wonderland Beauty Parlor senior colorist and hairstylist Ryan Hill is emphatic about how much he likes this Croc Classic titanium iron — especially because of its shape, which he says is "ergonomic enough for me to grip firmly without feeling any heat through the handle, unlike most other irons." This one is by far his favorite, and he has tried many over the years. It has digital temperature settings ranging from 280 to 450 degrees, "making it perfect for fragile hair as well as keratin treatments, which typically require high temperatures," and he loves that the ceramic plates produce natural infrared that helps prevent damage and dryness. And for travelers, it's dual voltage. "I can't think of a single downfall to this iron," he says. "I love it that much."
Best flat iron for wet-to-dry styling
Temperature: 248-365 degrees | Plate material: Ceramic | Plate material: 2.5 inch
Usually, taking a flat iron to a head of wet hair is a recipe for disaster. But GHD recently launched a wet-to-dry styler that is designed to dry and straighten wet hair with minimal heat damage. The Duet is basically a hair dryer and GHD Platinum+ styler combined into one tool. After towel-drying my hair, I flipped the on switch, which turns on the fans located in the plates and keeps them at a lower temperature. Starting at the root, I passed the iron over a two-inch section of hair (the brand cautions against trying to dry sections any larger than the plates themselves). I was impressed both by how quiet it was. After a few passes and about 15 minutes, my hair was dry, sleek and shiny. I should note that since my hair is naturally very straight and fine, someone with thicker or curlier hair will probably need to budget more time to get the job done. After my hair was totally dry, I then turned on the Shine Shot button, which turns off the fans and heats the plates up to exactly 365 degrees to turn the Duet into a traditional flat iron. While it is pricey, since it is effectively two tools in one, I think it's absolutely worth the price, especially for someone who prefers to shower and style in the morning.
Some more hair-styling tools we've written about
•Luca Blandi, celebrity hairstylist
•Cassadi Currier, stylist and extension specialist at Pembley Joon
•Yene Damtew, hairstylist
•Mika English, stylist
•Ryan Hill, Wonderland Beauty Parlor senior colorist and hairstylist
•Hos Hounkpatin, celebrity stylist
•Brooke Jordan, co-owner of Brooklyn-based salon the Bird House
•Linh Nguyen, Project Runway All Stars hair consultant
•Jessica O'Keeffe, stylist at Hawthorne Studio
•Kadeisha Placide, the manager and lead stylist at Classic Beauty Studio
•Felicia Rials, hairstylist at West Hollywood's 901 Salon
•Nunzio Saviano, hairstylist
•Tym Wallace, celebrity hairstylist
•Latanya Williams, a stylist with mobile hair salon Yeluch
Additional reporting by Lori Keong, Tembe Denton-Hurst, and Jenna Milliner-Waddell
The Strategist is designed to surface the most useful, expert recommendations for things to buy across the vast e-commerce landscape. Some of our latest conquests include the best acne treatments, rolling luggage, pillows for side sleepers, natural anxiety remedies, and bath towels. We update links when possible, but note that deals can expire and all prices are subject to change.