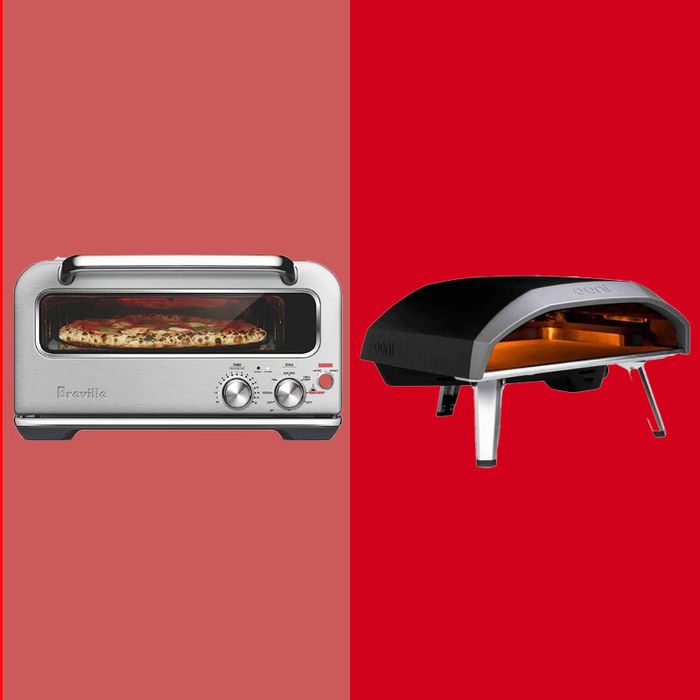 Photo-Illustration: The Strategist; Photos: Retailers
Like many of us, Auggie Russo spent more time cooking these past few years, and he eventually bought a home pizza oven. "The pizza was terrible in the beginning," he says. "Awful, like really bad. Everything about it was wrong." But with practice, he improved his pizza-making skills. Russo now runs the pizza pop-up Auggie's Infamous, which can be found around Brooklyn, and he says anyone can make restaurant-quality pizza at home using a good pizza oven: "My friend owns a big professional oven. But I could bake a pizza and put it right next to his and you'd never know which got baked in the $40,000 oven and which got baked in the $500 oven." The difference, Russo tells me, is the output. A professional oven can bake up to ten pizzas at once, whereas smaller models can usually cook only a pie at a time.
Similar to cooking and baking, pizza-making can be both a serious craft and a fun, creative, communal process, and the wide variety of ovens available today reflects the range of experiences you can have while making pies. To pick the best at-home models, I talked to pizza-makers and chefs about the ovens they use themselves and would recommend to others — and tested a few myself. Whether you're looking for your first-ever pizza oven or are a seasoned pizzaiolo in need of an upgrade, there's an option for you.
Pizza ovens generally use three types of fuel: gas, wood, or electricity. You'll want to consider whether you'll be making pizzas inside or outside: Gas- and wood-fueled ovens (which reach a higher overall temperature than most electric ovens) require outdoor use, while electric models can be used indoors and out.
The standout feature of an at-home pizza oven is that it gets much hotter than a traditional kitchen oven. While the ideal temperature for your pizza varies by the style you're making, you should generally look for a max temperature of about 800°F to 900°F.
These ovens have different ways to adjust the temperature, such as a manual knob to control the gas input or a dial to control the coils of an electric oven. Some models also let you select which parts of the pizza will be heated, like the bottom of the crust or the toppings.
An oven's size can give you a sense of how portable it is. Some models are more permanent fixtures in an outdoor space, while others are more compact and can be moved around often.
Best overall pizza oven
Fuel source: Gas | Temperature range: Up to 950°F | Temperature control: Dial that controls the flame | Size: 25″D x 23.2″W x 14.7″H
Ooni has been the biggest name in the pizza-oven space since the brand launched in 2012, and while it offers a wide selection, the Koda is the oven we recommend for both amateur pizza-makers and experienced pizzaiolos thanks to its high maximum temperature and ease of use. Russo uses two Koda 16's for his pop-up restaurant. "It's dead simple," he says. "If you can operate a modern barbecue, it's the same. You turn a little dial, it clicks, it ignites, you have a temperature gauge that lets you roll the flame back." The Koda 16 can get hot: Russo says he cooks his pizzas at 950 degrees, which he admits is on the higher side, but he says that wide range of possible temperatures is good — and crucial to play around with — especially if you're making different styles of pizza with different doughs. Although the Koda comes in a 12-inch version, Russo recommends the 16-inch model for beginners. "You've got more room to turn your pizza comfortably, to keep it away from the fire. You're not gonna panic and tear it. It's just a much easier experience," he says. Nik Sharma, author of The Flavor Equation and Season, says the Koda is also a great gift for chefs because it can cook dishes other than pizza. "I've found it to be an amazing tool to replicate the conditions inside a tandoor oven. Naan, tandoori chicken, and all sorts of kebabs turn out wonderfully," he says. At $599, the Koda's price is another reason I've picked it as the best overall pizza oven. It can provide both a high-end and beginner pizza-making experience while being relatively more affordable (compared to the $1,000 options on this list).
Best (less expensive) pizza oven
Fuel source: Gas and/or wood or charcoal | Temperature range: Up to 950°F | Temperature control: Dial that controls the flame | Size: 28.7″D x 16.4″W x 29.7″H
The Karu 12G is a wood-burning pizza oven that lets you hook up a propane tank to make it gas powered. It's a slight upgrade to the Karu 12, which is also a multi-fuel option, the difference being that the Karu 12G has an insulated glass door so you can check on your pizza while it retains its heat. Compared to the Ooni Koda 16, above, the 12G is smaller and will allow you to cook 12-inch pizzas. Anyone who has used a gas stove or charcoal grill will find the Karu 12G easy to use. I tried both the gas and the wood (I used charcoal) option but found the gas to be more efficient and straightforward. Compared to the Ooni Volt, the electric model below, the Karu 12G took a little more tweaking (adjusting the gas knob, tending to the charcoal) to get the temperature set and consistent. But after the first pizza, it was easy to maintain the heat I wanted.
Best portable pizza oven
Fuel source: Gas or wood (additional burner required for wood option) | Temperature range: Up to 950°F | Temperature control: Control knob attached to regulator | Size: 21.2″D x 16.1″W x 18.5″H
The Roccbox comes recommended by two experts I spoke to, including Chris Milazzo, owner of Bad Cholesterol Bakery, who uses two Roccboxes for his pizza pop-up around New York City. (Milazzo previously used an Ooni Koda 12 but found the opening a little too narrow for the pizzas he wanted to make.) "I've really loved the Roccbox," he says. "It's much wider than the Ooni Koda 12, so it's got much more of a dome effect on the flame. If you look inside, you can see the flame rolling up across the ceiling of the oven, and it looks like a very tiny little Neapolitan pizza oven." Milazzo also likes that the Roccbox is insulated, which is ideal if you're baking pizzas across a longer period of time. "I'm usually cooking for maybe four or five hours at a time, and it keeps the temperature really nicely," he says. Food and prop stylist Jess Damuck thinks the Roccbox, which has three folding legs, is great for travel: "I do more glamping than camping, and the Roccbox is a such a great way to do outdoor cooking." Damuck packs hers into her Volkswagen van and says she has used it to make not only pizza but "the best spatchcocked chicken." At $499, the Roccbox is the second-least-expensive oven on this list, but it can still help you cook a professional-quality pie in a compact package.
Best electric pizza oven
Fuel source: Electric | Temperature range: Up to 850°F | Temperature control: Two dials; one controlling overall temperature, the other controlling bottom and top heat | Size: 24.2″D x 20.8″W x 10.9″H
For an oven you can use indoors and outdoors, the Volt is a great option. I've been testing it for the past three months, both on my patio and in my kitchen at least twice a week. Baking with the Volt is a low-maintenance operation — I just plug it in, set the temperature on the dial, and let it heat up. It takes about 20 minutes to get to 850 degrees (its maximum temperature setting). As a beginning pizza-maker, I found the temperature dials very straightforward: One controls the overall temperature, while the other controls where the heat is focused on the two electric coils (one above the pizza and one under the pizza stone). The first few times I used the Volt, I didn't adjust the heat with the second dial and thus the bottoms of my pizzas were charred. As soon as I adjusted the heat to cook the pies more evenly, they immediately became more edible. To help pizzas slide into the oven, I often use cornmeal, and I've found the Volt can get smoky if you don't regularly clean it. Because of this, I use the Volt on my patio more often than in my tiny kitchen. If you'll be making pizzas often without gas, charcoal, or wood and want to press one or two buttons throughout the entire process, then check out the Volt.
Best for the kitchen
Fuel source: Electric | Temperature range: Up to 750°F | Temperature control: Two dials; one that controls preset electric coil temperatures for a desired pizza style, another that controls overall temperature | Size: 18.25″D x 18.5″W x 10.6″H
If you want to make pizzas but don't have access to an outdoor space, the Pizzaiolo is your best bet. Milazzo calls it "the gold standard for an electric at-home pizza oven" and uses two Pizzaiolos for his indoor pop-up events. "They're about as close as you can get to cooking in an open-flame outdoor oven at home," he says. Much like the Ooni Volt, the Pizzaiolo has different electric coils that heat the top and bottom of the pizza, which you can adjust to make different kinds. "You can go from a New York style where you're doing a lower heat and cooking it for longer, or you can crank the heat all the way up and have it just focus really on the crust so that you get that nice lift with a crunchy outside and soft inside," Milazzo explains. Natalie DeSabato of Traze Pizza Lab uses the Pizzaiolo to make ten-inch grandma-style pan pizzas and likes this oven's ability to target specific areas with heat. "You can direct it more to the edge of the crust or to the middle of the pizza," she says. DeSabato adds that she mostly uses the Pizzaiolo indoors at breweries and would recommend it to anyone looking to cook inside. "It also doesn't generate so much heat on the outside of the oven," she says, noting that she can pick it up and move it around shortly after baking.
Best for the backyard
Fuel source: Gas and/or wood | Temperature range: Up to 950°F | Temperature control: Dial that controls the flame | Size: 24.9″D x 28.9″W x 26″H
At 128 pounds, the Dome isn't meant to be moved around; it's more of a sleek backyard centerpiece than a portable pizza oven. Its dual fuel system allows you to cook pizzas and other types of food using propane, natural gas, or wood. Damuck has used her Gozney Dome for two years and found it crucial for big gatherings. "It's the best way to have a casual dinner party," she says. "Normally, when we have 35 or 40 people come over and we're cooking a full dinner, that would be a huge project and super-stressful, but the Dome has made it so easy to make pizzas, and people really love being involved with it too." Damuck also found the Dome useful for cooking foods other than pizza: "You can throw a cast-iron skillet into it and cook a steak or a whole roast chicken. I've done flatbreads and skewers, too." Russo thinks it's the best splurge option for the at-home cook with an outdoor space. "It's a beautiful oven for somebody who's got the room in their yard and doesn't want to spend five grand on a brick oven," he says.
The Strategist is designed to surface the most useful, expert recommendations for things to buy across the vast e-commerce landscape. Some of our latest conquests include the best acne treatments, rolling luggage, pillows for side sleepers, natural anxiety remedies, and bath towels. We update links when possible, but note that deals can expire and all prices are subject to change.