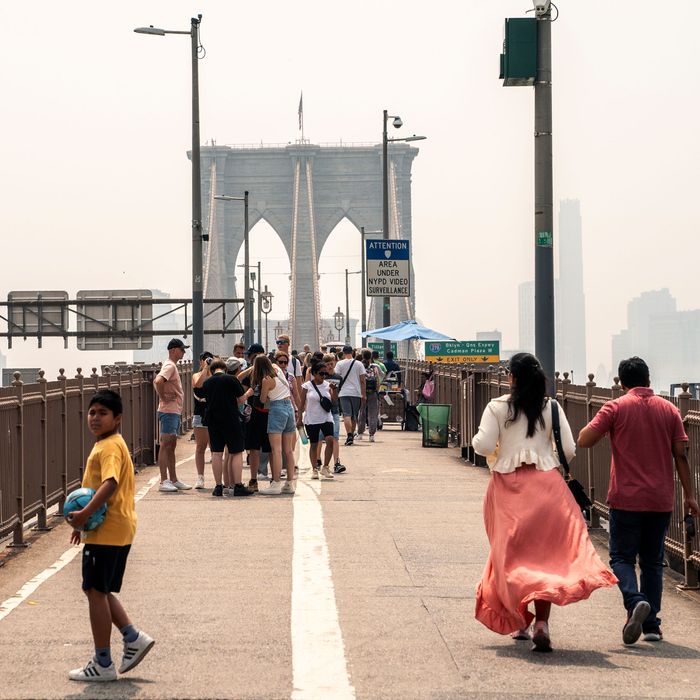 Wildfire haze over the Brooklyn Bridge on June 30.
Photo: David Dee Delgado/Getty Images
With Canada's worst-ever wildfire season raging on, it was only a matter of time until the haze from thousands of square miles of scorched forest would drift back down to New York. A little over a month after a smokepocalypse tinged the sky orange, the haze is coming back; Empire State residents will get a sequel — though in a less severe form.
Thanks to a cold front in central Canada, the smoke from the wildfires pushed down across the Great Lakes states over the weekend, making its way to New York. On Monday, the State Department of Environmental Conservation issued an air quality warning for all of New York with the Adirondack region and central New York expected to experience the greatest decline in air quality. The primary pollutant from wildfire smoke is known as PM2.5, fine particulate matter that can make breathing difficult depending on the local level. According to the Environmental Protection Agency's air quality index, a level between 100 and 150 can cause issues for some sensitive groups, including children, seniors, and people with respiratory conditions like asthma. Above 150 is considered unhealthy for all groups with health officials advising everyone to limit outdoor exercise and those sensitive groups to avoid exercising outdoors.
In June, the haze in the air came largely from wildfires in Quebec and Ontario that are slowly being brought under control by Canadian firefighters and the international crews that rushed to aid the effort. This time around, the smoke is wafting in from conflagrations in British Columbia in the Canadian West where over 300 fires are burning:
In the Adirondack region on Monday morning, the AQI was at 155 for fine particulate matter, and in central New York, it was 160. The western New York region encompassing Buffalo was also at 155, and New York City was around 115. In June, when an eerie-orange haze hung over the entire state, the AQI was over 400 in New York — the worst air quality ever recorded in the city. And while it does not appear that the state will experience those levels this time, the governor's office is taking pains to be responsive after facing criticism for a slow response to the initial crisis. Before New Yorkers woke up on Monday, Governor Hochul had already issued an air quality alert for the day with cellphone alerts going out if the air quality index goes above 200 in a given region.