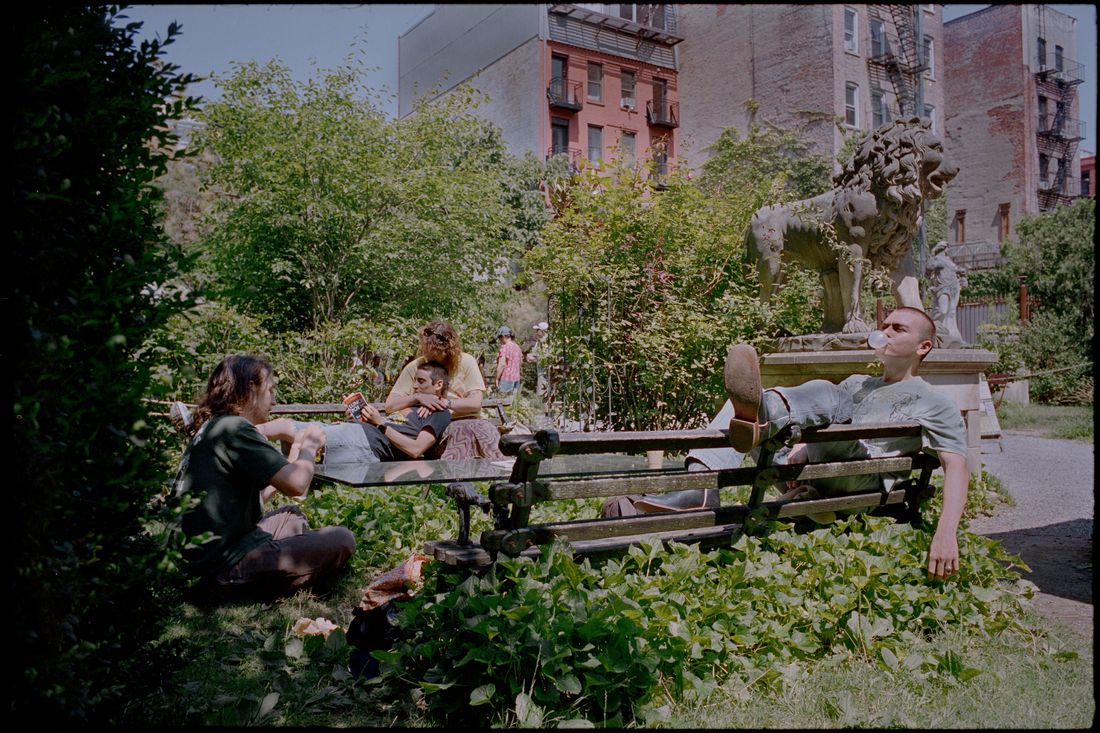 Visitors enjoying the garden on a Tuesday morning in July.
Photo: Sara Messinger
At a glass table surrounded by rhododendrons and a young Japanese maple, Joseph Reiver, the executive director of the Elizabeth Street Garden, has taken a break from mulching a walkway on a warm summer morning. At 31, he is the same age as the garden founded by his father, an antiques dealer who leased a vacant lot from the city to house his eclectic stoneworks back in 1991. "It defines me in every way," Reiver says.
On the half-acre plot of his dominion in Nolita, guests are paired off under the gaze of a limestone lion to read, take pictures, and flirt. But these moments may be the last of their kind. Unless the garden's supporters can figure out how to overturn a universal court ruling handed down in June, a developer will raze the grounds, ending a decadelong battle between two demands of urban life. The city — backed by local officials, area YIMBYs, and nonprofits — wants to build 123 studio units of affordable housing for seniors who make less than $49,000 a year. Reiver wants the garden to stay put as a land trust, arguing that it provides vital green space for neighborhood residents, including those living in the affordable housing next door.
Reiver and the garden's 350 volunteers say they have presented alternative lots that could spare their project. But supporters of affordable housing say that this city-owned site has already been cleared of red tape and that other sites can be added later to meet the demand of the roughly 5,000 low-income seniors on the wait list for housing in this district, which is otherwise out of reach. One proponent of tearing down the garden refused even to call it a garden, telling me it's just the "site at issue."
Team Garden is preparing for desperate measures. Reiver says, "I can't tell you how many people say, 'Let us know when to chain ourselves to the gate.'"