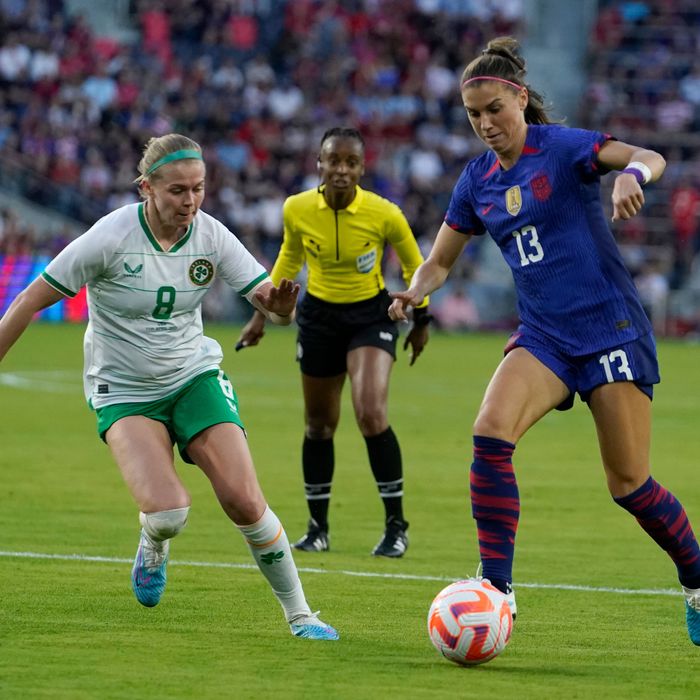 Alex Morgan and Ireland's Ruesha Littlejohn battle for the ball during the first half of an international friendly match in April. (AP Photo/Jeff Roberson, File)
Photo: Jeff Roberson/AP
Being a sports fan is rarely a righteous endeavor. Cheering for your favorite team almost always presents a few ethical hurdles you must leap over: The star player is a jerk; the owner is a billionaire robber baron; the team itself is a huge corporation that does not care about you. Try as you might to be an upright and moral sports fan, as a general rule it's impossible.
The 2019 U.S. Women's World Cup team was a gloriously transcendent exception to that rule. The team, which beat the Netherlands 2-0 to win their second consecutive World Cup (and fourth overall), felt like a group of noble, righteous figures triumphing over the forces of darkness. In this metaphor, those dark forces weren't represented by poor Holland or any other team the USWNT vanquished on their way to the cup. Rather, they were personified by the leader of the country the USWNT was in France to represent. The story began when Megan Rapinoe, the team's captain and most outspoken (and famous) player, was asked whether, if the USWNT won the Cup, she'd be excited to go to the White House. Her answer sums up what it felt like to be alive during the Trump administration and what it may feel like again in 2025:
This predictably set Trump off. He tweeted that Rapinoe should "WIN first before she TALKS" and that she "should never disrespect our Country." (Trump and Fox News actively rooted against the American team at the Olympics two years later.) So when Rapinoe scored the first goal of that World Cup final, her celebration felt like the ultimate flex.
And when that swaggering team — which had also spent the last year fighting successfully for equal pay from U.S. Soccer — finally captured the Cup, it was a purely euphoric moment. The USWNT had conquered all foes. They'd taken down the Death Star.
The final, which I watched with my kids and 20,000 other Atlanta soccer fans on the big screen at Mercedes-Benz Stadium, was one of those never-forget-where-you-are sports moments. And considering the context and the fraught environment and the insane amount of pressure on that team, it's one that can probably never be repeated. (I mean, people were legitimately chanting "Fuck Trump" at the celebration parties.)
That brings us to this year's World Cup in New Zealand. It begins Thursday morning at 3 a.m. ET, with the USWNT kicking off Friday night at 9 against Vietnam. Rapinoe is still the inspirational firebrand she's always been, but she's also the leader of a fight that in many ways has already been won. Four years later, the USWNT doesn't have to fight against its president, or prove that they deserve everything that was denied them for so many years, or really do anything other than just go out and try to win the hardest soccer tournament in the world for the third time in a row. Some have argued (and early ticket sales have suggested) that this World Cup has less juice than the last one did, as if the tournament needs some sort of controversy to break through the public consciousness. But I'd argue this is what a sport looks like when it has already broken through. It doesn't require a raging lunatic in the White House or a grotesque underpayment scandal to drive headlines. This is what a sport looks like when everyone gets to just play.
And the benefits of that 2019 explosion — and the 2015 one that preceded it — are still being felt. Rapinoe, who is retiring after this tournament, remains one of the most recognizable athletes on the planet, as does Alex Morgan, the Golden Boot winner at the last tournament, who helped lead the charge on the equal-pay fight. Ratings for the National Women's Soccer League have steadily improved every year, with last year's championship airing on broadcast television live for the first time ever. (It reached more than a million viewers on CBS, a remarkable number considering it was scheduled against both college football and the World Series.) The sport itself, by all accounts, has more resources than ever before, though of course still not enough. The U.S. team has become so culturally powerful that its roster-announcement video featured appearances from Taylor Swift, Lil Wayne, Megan Thee Stallion, Shaquille O'Neal, Quinta Brunson, and, in a nice contrast from last time, the president himself.
True, it doesn't feel as much of a cause to support the USWNT at the World Cup this year. And that may be the best victory of all. "Let us play" has long been the rallying cry for women's sports — it is, fittingly, now commonly invoked in support of transgender, intersex inclusion in sports — and at this tournament, they get to do just that. They don't have to make their case for belonging here anymore: More people watched the 2015 Women's World Cup final than the NBA Finals or the World Series. They have the stage. It's difficult to come up with a sports team that has earned it more.
So is that team gonna win? They're the betting favorites, still, despite a bronze medal in the last Olympics and some high-profile losses in friendlies last year. There are serious challengers, from Spain to Germany to the Netherlands, and the most formidable threat, England. The days of clear U.S. dominance are over, another result of the USWNT's successes; they've made the sport bigger everywhere, not just here. Morgan and Rapinoe are back, but they're boosted by a new crop of young stars, including forward Trinity Rodman, who scored both the team's goals in the USWNT's final prep game against Wales. (And yes: She's Dennis's daughter. There's a whole complicated story behind that.) This team is talented and stacked and deeply likable as ever. They might just win this thing again. And they can do so with no more compelling story line than a great team playing great together, making their fans proud — fans high-fiving strangers wearing USWNT kits at the soccer bar, enjoying sports, and feeling like they're part of something bigger than themselves. The USWNT is one of the best teams in the world and could win its third World Cup in a row. That's the result of years of struggle and strife. That's incredible. And that's enough.