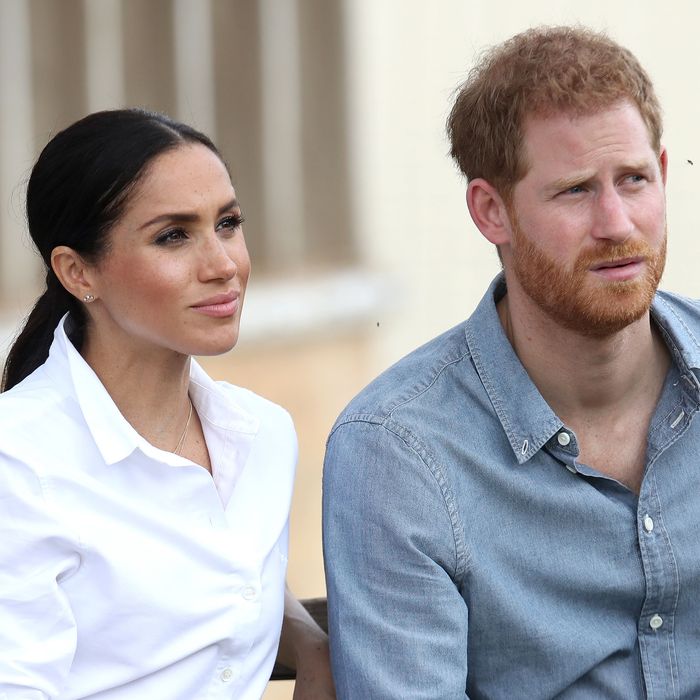 Photo: Chris Jackson - Pool/Getty Images
If you regularly engage with tabloid news, you might be under the impression that Prince Harry and Meghan Markle are constantly on the verge of divorce. Most celebrity couples are subjected to split rumors, but the chatter about the Sussexes is unusually persistent. Harry complained about this while testifying against Mirror Group Newspapers, saying that whenever he was in a relationship, the U.K. tabloids would "very quickly seek to try and break it up by putting as much strain on it and creating as much distrust as humanly possible." He added, "The twisted objective is still pursued to this day, even though I'm now married."
The Sussexes don't bat down all of these rumors, but the divorce chatter got loud enough in recent weeks that they (possibly) felt compelled to respond.
This week, Radar Online reported that Meghan and Harry are "taking time apart" — or doing a "TRIAL SEPARATION," as the headline put it — in hopes of salvaging their relationship. According to a "tipster," they have come to realize that "Harry doesn't fit in Meghan's tacky Tinseltown world," and the loss of their Spotify podcast deal was such a "game-changer" that they decided they need to spend some time doing solo soul-searching on separate continents:
"The Sussexes are under tremendous financial pressure to fund their lavish California lifestyle, including their $14 million mansion and huge security costs," said the source.




"That stress coupled with their emotional issues has likely made life a living hell. Taking time apart on different continents will hopefully help them find whatever they need to move on," they added.
The report came days after a rumor started circulating on Twitter that Meghan has "filed divorce papers asking for $80 million plus the total custody of Archie and Lilibet." Newsweek investigated the source of the claims in the tweet, which has been viewed more than 12.8 million times, and found them baseless. DeuxMoi, the popular Instagram gossip account, also ran an anonymous tip in recent days claiming the couple had "sold their mansion in Montecito" and Harry was "living in another place."
But on Wednesday, a slightly more reputable gossip source pushed back. "Page Six" reported that all the speculation about the royal couple's breakup was totally false. "It's not true. It's literally made up," an insider told the column.
And Harry may have business in Africa that doesn't involve sulking about the state of his marriage. Late last month, "Page Six" reported that he was heading to the continent by himself this summer to film a Netflix documentary, though the Hollywood writers strike may delay the project.
Perhaps Harry responded to Netflix's reported "no work, no pay" ultimatum by putting his nose to the grindstone, pitching the streamer a decent idea, and making plans to start filming another documentary. And perhaps Meghan is staying home in California because they have two small kids and she's working on other projects.
So which is it: Are Harry and Meghan hanging by a thread or dusting themselves off after taking a hit financially? I don't know. Should we all just ignore anonymously sourced royal gossip? Yes. Is this nosy, flawed, lifelong royal-watcher capable of doing so? Absolutely not.