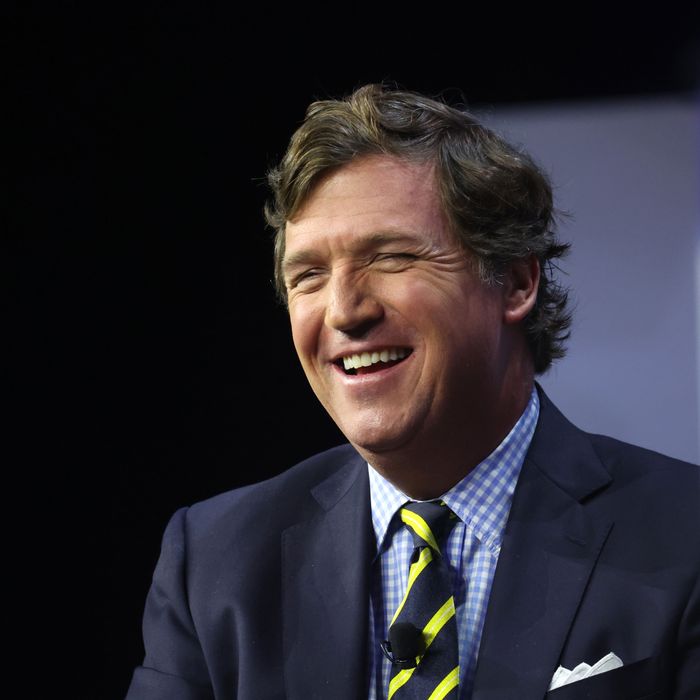 The right reverend Tucker Carlson.
Photo: Scott Olson/Getty Images
Iowa's conservative Evangelicals represent a hardy breed of religiopolitical activists who are acutely aware of their powerful role within the national Republican Party. They've long constituted a potential stumbling block to GOP presidential front-runners, including Rudy Giuliani, John McCain, and Mitt Romney. Candidates don't have to be fellow Evangelicals to appeal to this constituency, but they typically do need some sort of faith-based nexus. For example, though 2012 Iowa caucuses winner Rick Santorum is a traditionalist Catholic, he was in total sync with conservative Evangelicals on hot-button cultural issues and equally disdainful of Establishment Republicanism.
That all changed after Trump's Iowa loss in 2016. There and nationally, the heathenish mogul became the favorite politician of conservative Evangelicals. Indeed, his very un-Christian ethic of vengeful cruelty toward real or perceived enemies appears to have struck many theocratically inclined Republicans as a heaven-sent scourge defending, if not sharing, their faith. But in 2024, Trump's comeback effort is being challenged by candidates very much like the churchy politicians who used to win the hearts of Iowa Evangelicals, and often the caucuses. They are being aided by the 45th president's patent contempt for Christian right leaders like Bob Vander Plaats of the powerful Family Leader organization, and his close ally Iowa governor Kim Reynolds.
So it was of intense interest to political junkies everywhere to see what would happen on July 14, when Iowa Evangelicals gathered under the aegis of the Family Leader to hear from the major 2024 candidates other than Donald Trump, who snubbed the event. Would they rally around their old friend Mike Pence, who had fought the culture wars against gays and feminists and "government schools" for decades? Or maybe Tim Scott, whose speeches are often difficult to distinguish from Sunday sermons? Or perhaps Ron DeSantis, who seems to lack the fire of personal faith but is almost scientifically aligning himself to the right of Trump on issues like abortion and LGBTQ rights and "wokeness"?
That's not how it worked out. The star of the Family Leadership Summit was its designated candidate-interviewer, unemployed right-wing pundit Tucker Carlson. Sure, Vivek Ramaswamy got some audience raves, and Ron DeSantis did himself some good as well. But in both cases, the candidates did well to the extent that they agreed with Carlson's take on the world, particularly with respect to the Russia-Ukraine war. It was a bit of a surprise to learn that Iowa's conservative Evangelicals appear to be as exercised about Joe Biden's support for Ukraine as they are about his alleged coziness with baby-killers and sodomites and pedophile "groomers." But perhaps they were in part just wowed by Tucker's star quality, much as Trump bowled them over once he became the Republican presidential nominee in 2016.
It's interesting to compare the former Fox News star's appeal to Trump's among this particularly powerful Republican constituency. Carlson is not a religious illiterate who can be viewed as an unwitting instrument of the divine will. He is an even more exotic creature in the company of conservative Evangelicals: a mainline Protestant. Indeed, he's a lifelong and hereditary member of the Episcopal Church, a particularly despised institution in MAGA-land thanks to its cultural liberalism and unparalleled Establishment credentials. But Carlson is, in conservative eyes, the best kind of Episcopalian — an angry and alienated Episcopalian, as he explained to an Evangelical magazine in 2013:
We still go to the Episcopal Church for all kinds of complicated reasons, but I truly despise the Episcopal Church in a lot of ways. They're for gay marriage because it's trendy. It's another way to express how hip they are. They don't care at all what God thinks of it, because they actually don't believe in God. And then the fact that they sanction abortion.
On another occasion, Carlson said his church is "not even a Christian religion at this point." This is actually a very common opinion of mainline Protestants among the kind of people who attended the Family Leadership Summit. But perhaps more to the point, he subscribes with quasi-religious passion to a kind of state-imposed cultural conservatism typified by Hungarian authoritarian leader Viktor Orbán, whom Carlson has lionized relentlessly, even hosting his show from Budapest in 2021 and putting together a pro-Orbán documentary. As The Guardian reported, this was no casual bromance between a credulous journalist and an exotic strongman:
Sitting in a book-lined office, Viktor Orbán, prime minister of Hungary, agreed [with Carlson] it was "one of the capitals" producing "very nice ideas". He went on to praise Donald Trump as "a great friend of Hungary" and laud the former US president's "America first" foreign policy.




The "kind of thinking" that Carlson and Orbán were discussing in a fawning TV interview on Thursday was, in their words, about families, borders and the struggle of Christian democracy against leftist liberalism. But for critics of both men, it was nothing less than an authoritarian, ethno-nationalist blueprint for the United States itself.
Carlson is just one of a number of American right-wing figures lauding Orbán as a defender of Western civilization against "un-Christian" secular liberalism and Islam. But it shows why calling the former Fox News personality a "Christian nationalist" isn't quite right: He's a Christian internationalist who implicitly views Putin's Russia as a civilizational ally. That's the broader context in which to understand why Carlson focused on Ukraine policy in Des Moines and savaged Christian right war horse Pence for his solidarity with the bad actors of Kyiv, as Jonathan Weisman reported:
… Mr. Carlson called Ukraine an American "client state," accused Ukraine's Jewish leader, Volodymyr Zelensky, of persecuting Christians and strongly indicated Mr. Pence had been conned, despite evidence to the contrary.
If Carlson had shouted to the audience during his grilling of Pence, "Can I get an amen?," he would have probably been gratified by the response.
The conservative Evangelical surrender to Trump in the last few years remains a disturbing sign of that community's willingness to subject traditional Christian values to the most radical kind of cultural conservatism. But the surrender in Des Moines to Tucker Carlson shows it was no accident, and won't perish when Trump's own career finally ends.