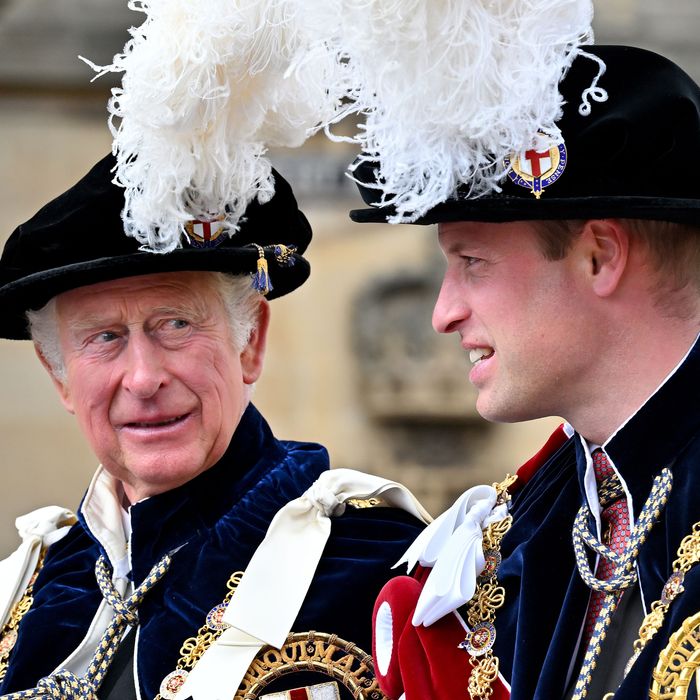 Photo: Pool/Max Mumby/Getty Images
A central theme in the budding Prince Harry media empire — including his tell-all memoir, several TV series, and various interviews — is that members of Britain's royal family are incredibly emotionally repressed. While several top royals do not appear to even be speaking at the moment, they do have one avenue left for expressing their feelings: real estate.
Earlier this year, King Charles "evicted" Harry and his wife, Meghan Markle, from Frogmore Cottage, a home on the royal estate adjoining Windsor Castle, which they no longer lived in. The king reportedly wanted his disgraced brother, Prince Andrew, to abandon his longtime home, Royal Lodge, and move into Harry and Meghan's old digs, which are much smaller. But Andrew refused, and for the last few months he's been "playing a game of real estate chicken with his brother King Charles to evade eviction," as W Magazine put it.
Now Prince William is making his own passive-aggressive property moves. He has informed his father that he's turning his beloved Welsh vacation property into a rental property, according to the Daily Mail. That means King Charles needs to clear out his stuff, and if he wants to spend time there, he'll have to pay just like everyone else.
Charles bought the property, Llwynywermod, for £1.2 million in 2007 and put a lot of time and energy into renovating the three-bedroom house and its grounds. But when Queen Elizabeth II died last fall and Charles ascended to the monarchy, William became the Prince of Wales and took over the property, which was purchased through the Duchy of Cornwall. While Charles usually spends a week or two at Llwynywermod over the summer, William did not renew his lease. Three nearby properties owned by the Duchy are already being rented out, and the prince reportedly plans to add the cottage to the roster after September.
King Charles is said to be disappointed by this development, and he remains so devoted to the place that he has has agreed to continue paying for some of the upkeep.
"The King was quite miffed but that was the deal. It means he can continue to stay there but he will pay rent to the Duchy and the rest of the time it will be rented out," a royal source tells the Daily Mail. "The King has agreed to pay for the topiary upkeep as he doesn't want to see all the good work in the grounds go to waste."
Prince William is usually presented as the "good" son (much to Harry's chagrin), so it's a bit surprising that he's making his dad pay to stay in what is essentially his vacation house. It raises questions about the true status of Charles and William's relationship and the entire point of being the monarch these days. Why do it if you can't even order your heir to give you a friends-and-family discount?