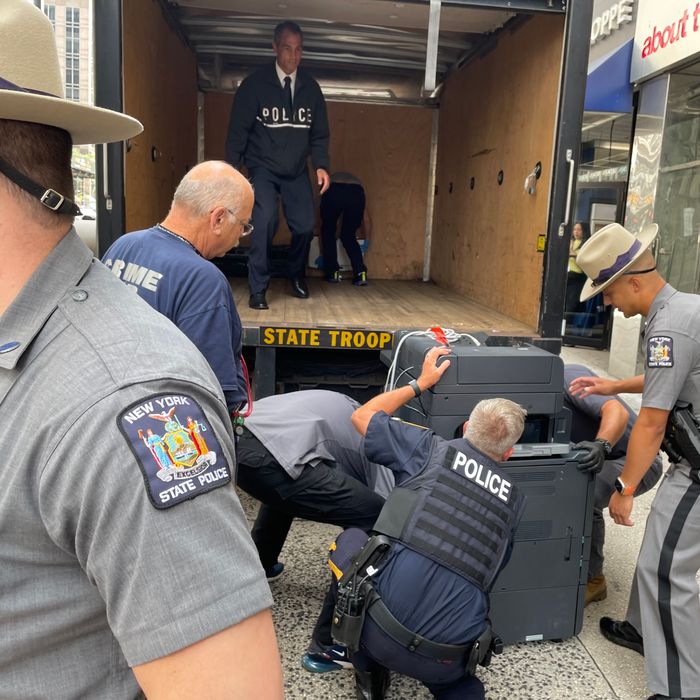 Authorities load a copy machine into a New York State Police truck on July 15 outside 385 Fifth Avenue in Manhattan, the building where Rex Heuermann, the alleged Gilgo Beach serial killer, worked.
Photo: Craig Schneider/Newsday via Getty Images
The Gilgo Beach serial-killer case that has haunted Long Island for more than a decade seems to have finally been solved. Last week, a 59-year-old local architect, Rex Heuermann, was arrested and charged with murdering three women whose bodies were discovered in 2010 near Gilgo Beach along Long Island's South Shore. Heuermann, who lived in nearby Massapequa Park and ran his own firm in midtown Manhattan, is also the prime suspect in the murder of a fourth woman whose body was found near the other victims. He has pleaded not guilty to the charges. Below is what we know about the suspect, the case against him, and all the latest updates on this still-developing story.
Heuermann's lawyer says his client is "traumatized" by arrest
Michael Brown, the attorney representing Rex Heuermann in the Gilgo Beach case, told ABC News that his client appeared "traumatized" at his arraignment hearing where he entered a non-guilty plea.
Brown, who described Heuermann as "soft-spoken," said the case will be difficult to try because of its high-profile nature, opining that his client has already "been convicted in the media already."
"When you have a high-profile case like this, initially you have to be concerned about getting a jury that hasn't been biased, that hasn't convicted him just based on what they've read in the newspapers and what they've heard on social media. So that's going to be a challenge," he told the outlet.
Brown said he is building his legal team for the proceedings and awaiting the discovery process.
Woman details alleged past date with Rex Heuermann
Nicole Brass, a 34-year-old woman, spoke to the New York Daily News about an encounter she says she had with Rex Heuermann in her former life as an escort.
Brass recalls that Heuermann first wanted to meet her in a hotel room near Massapequa Park, where he lives, but she was uncomfortable with that idea. She asked to meet instead at a seafood restaurant called Steam Room in Port Jefferson. During their dinner, Brass remembered Heuermann seeming "totally normal" until he brought up the Gilgo Beach murders, and his demeanor changed.
"When he spoke, something about it his body language changed, the look in his eyes changed, and it seemed like talking about the victims was enjoyable for him," Brass said.
She said his tone while talking about the murders made her think that he was "visualizing it in his head and getting off to what he was saying."
"The way he talked about it was really weird, and it gave me the worst gut feeling. I was so scared at the end of it," Brass said. "I didn't try to keep the dinner going long after that."
She told Francis Donoghue about the meeting years later. Donoghue, a friend of Brass's fiancé, also spoke to the News.
"I remember a few years ago when I met her, she told me about that," Donoghue said. "She was certain, and she even showed me a picture of him," he told the outlet.
Investigation extends out of state
Authorities has conducted searches at South Carolina properties owned by Rex Heuermann, according to WHNS, a local news affiliate. Fox News Digital captured video footage of a truck being towed away from the scene. The vehicle is believed to be a Chevy Avalanche, the same model of truck that Heuermann is believed to own, and which has been linked to the case. Heuermann's brother Craig reportedly also owns property nearby.
The Chester County Sheriff's Office, whose jurisdiction covers the properties, confirmed in a statement that it had been enlisted by the task force investigating the Gilgo Beach murders to "assist in gathering evidence in Chester County relevant to their investigation."
"The Chester County Sheriff's Office has and will continue to work closely with the Federal Bureau of Investigation (FBI) and Suffolk County law enforcement authorities during this very important and arduous investigation," it read.
The Las Vegas Review-Journal reports that Heuermann also owned a timeshare in Las Vegas. "We are currently reviewing our unsolved cases to see if he has any involvement," the Las Vegas Metropolitan Police Department said Tuesday.
Officials shed light on why Heuermann was arrested outside his home
Authorities took Rex Heuermann into custody last week in Manhattan, a choice that took on new significance following the discovery of hundreds of firearms in his Long Island home. In an interview with ABC News, Suffolk County District Attorney Ray Tierney said the weapons were the deciding factor in law enforcement's decision to arrest him elsewhere.
"We wanted to take him into custody somewhere outside the house, because of access to those weapons," he said.
Heuermann's wife likely did not know about his crimes
Court documents suggest that Rex Heuermann likely kept his actions from his family. Analysis of phone records shows that Heuermann's wife, Asa Ellerup, was out of town during the periods in 2009 and 2010 when Melissa Barthelemy, Megan Waterman, and Amber Costello went missing. Though Heuermann is a suspect in the 2007 death of Maureen Brainard-Barnes, phone records from that era are no longer accessible.
In an interview with CNN, Suffolk County police commissioner Rodney Harrison said Heuermann's family was stunned when they were told of his alleged crimes.
"They were disgusted. They were embarrassed," he said. "So, if you ask me, I don't believe they knew about this double life that Heuermann was living."
Heuermann's family was reclusive, per neighbors
Residents in Rex Heuermann's neighborhood are starting to paint a picture of the suspect's life in Massapequa Park, where he lived with Ellerup and their two children. Heuermann was previously married to another woman in the 1990s.
The New York Post reports that Heuermann's daughter, Victoria, is an employee at his architecture firm, though a page that included the company's employees has been scrubbed from its website. Not much is known about Heuermann's other child, a stepson whom a neighbor described to CBS News as having "special needs."
Ellerup shopped at the IGA grocery store with the children every week for decades. Heuermann never joined them. Mery Salmeri, a store manager, told the New York Times that Ellerup looked depressed, and noted that the family always paid with food stamps, which was uncommon for that area. The use of food stamps also seems at odds with Heuermann's career as an architect with a midtown Manhattan office.
The family's neighbors describe the family as being solitary, rarely interacting with anyone on their block or having visitors to their home. The house they lived in was also not well maintained, and one neighbor said Ellerup often looked like she "just rolled out of bed."
Investigators face a "flood" of evidence
"Right now, we have a flood of information and a flood of evidence coming in, and it's going to take us a while to sort of go through all of that," Suffolk County district attorney Ray Tierney told CNN on Monday.
On Sunday and Monday, police searched and removed items from storage units which Rex Heuermann apparently rented at two self-storage facilities in Amityville. They also removed evidence from the office of Heuermann's architecture firm in midtown Manhattan over the weekend, and have continued to confiscate items from his Long Island home, as well. CNN reports that according to a source, the search of his house in Massapequa Park "has largely been focused on forensics, but authorities are also looking for items that could be souvenirs from the killings — things that appear to be hidden or kept in such a way other family members would not have come across them."
Among the items recovered from Heuermann's residence, which Suffolk County police commissioner Rodney Harrison has described as a "very cluttered house," were between 200 and 300 firearms — including pistols, revolvers, and semi-automatic rifles — that Heuermann kept in a vault in his basement. Though Heuermann was apparently an avid hunter, he only had legal permits for 92 firearms. "It's concerning, regarding the guns being registered or legal or not," Harrison told Fox News on Monday. "That's something we're still taking a look at. Anytime somebody has that type of arsenal, we have some concerns."
Police have also been seen removing what the New York Post describes as "dozens of bizarre items" from the home, including "a child-sized, fair-haired doll kept in a large wooden and glass case" — that was not found in Heuermann's children's rooms.
After his arrest, alleged killer reportedly asked: "Is it in the news?"
CNN reports that according to "a source familiar with the case" Heuermann "had only one question during intake at the jail after being arrested last week" — which was "Is it in the news?"
The alleged serial killer, who is being held without bail, was put on suicide watch after being taken to jail on the advice of medical staff.
Criminologists' 2011 profile of then unknown serial killer wasn't far off
The New York Times revisited what several experts and criminologists said in 2011 when the publication asked them to profile the person who murdered the Gilgo Four:
[The women] were probably killed by a white man in his mid-20s to mid-40s, they said. He is married or has a girlfriend. He is well educated and well spoken. He is financially secure, has a job, owns an expensive car or truck, and lives or used to live near where the bodies were found.




On Friday, details began emerging about Rex Heuermann, who was arrested and charged with murder in the killings of three of the women. Prosecutors said he was the prime suspect in the death of the fourth woman. Mr. Heuermann, 59, is a married white man who works as an architect in Manhattan and lives in Massapequa Park, about 15 miles from Gilgo Beach. He owned a Chevrolet Avalanche truck at the time of the killings, prosecutors said.
Rex Heuermann's mugshot
A new mugshot of Rex Heuermann was released by law enforcement following his Thursday arrest:
What Heuermann's lawyer has said
Defense attorney Michael Brown told reporters on Friday that after he was arrested, Heuermann broke down in tears in front of his lawyers and said, "I didn't do this." Brown has also released a statement to the media emphasizing his client's spotless record:
Rex Heuermann is 59 years old with no prior criminal history. He is a college graduate and is a hardworking licensed architect who has his own NYC firm. He is a loving husband to his wife of over 25 years and an involved and dedicated father to his daughter and stepson. He has entered a not guilty plea and has insisted he did not commit these crimes. There is nothing about Mr. Heuermann that would suggest that he is involved in these incidents. And while the government has decided to focus on him despite more significant and stronger leads, we are looking forward to defending him in a court of law before a fair and impartial jury of his peers.
Among the gawkers outside suspect's house: Rudy Giuliani
The former mayor swung by Rex Heuermann's residence in Long Island on Saturday and reportedly asked one of the cops there how close he could get to the house. His spokesperson later told the New York Post that Giuliani "was on scene to cover this heinous crime as part of his hit new livestream show."
What about the other bodies?
Though the cold cases of the so-called Gilgo Four now appear to have been solved, law enforcement officials on Friday shared no additional details about the status of the investigations regarding the other seven people whose remains have been found around Gilgo Beach since 2010. There was also no indication that investigators believed Rex Heuermann was involved in those deaths.
Instead, the officials who spoke at Friday's press conference only indicated that their investigations into those other cases were still ongoing. "Even with this arrest, we're not done. There's more work to do in this investigation regarding the other victims, of the Gilgo Beach bodies that were discovered," Suffolk County Police Commissioner Rodney Harrison said. He urged anyone with information to call 1-800-220-TIPS, the county's Crime Stoppers hotline.
Suffolk County DA: "This case is not over"
At a press conference regarding the arrest, Suffolk County District Attorney Ray Tierney vowed that the case against Heuermann was "only beginning" and that "we're continuing to execute search warrants and we anticipate getting more evidence."
He also thanked the various law enforcement partners in the task force that ultimately cracked the case — and in particular how they continued to keep details of the investigation secret since they knew the suspected killer was himself closely following news about the case. "We knew that this one person would be watching, and we didn't want to give him any insight into what we were doing," Tierney said. "And we also didn't want him to know just how close we were getting."
In his comments on the arrest, Suffolk County Police Commissioner Rodney Harrison emphasized that "Rex Heuermann is a demon that walks among us. A predator that ruined families. If not for the members of this task force, he would still be out on the streets today."
Cell-phone data — which proved critical to tracking Heuermann down — paints a chilling, detailed portrait
According to court documents made public on Friday, Rex Heuermann faces both first- and second-degree murder charges over the deaths of Melissa Barthelemy, Amber Lynn Costello, and Megan Waterman in 2009 and 2010. He is also the prime suspect in the 2007 murder of Maureen Brainard-Barnes. All four women were described in the documents as sex workers who "had contact shortly before their disappearances with a person using a 'burner' cellphone" and were found in close proximity to each other, similarly positioned and bound.
After a new push to review evidence from the case last year, investigators were able to zero in on Heuermann as the main suspect after they were able to find a vehicle an eyewitness had seen at the home of one of the victims the day before they disappeared. The truck, a first-generation black Chevrolet Avalanche, had been registered at the time of the murders to a Long Island man who matched the physical description a witness had given of a man seen at that same victim's home attempting to solicit her.
Investigators then subpoenaed cell phone data records that allowed them to link him to calls made to and from the victim's phones near both Heuermann's home in Massapequa Park and his office in midtown Manhattan: The women's own phones provided ominous clues to their fates — a final cell-tower ping near Heuermann's residence, a voicemail check by the expressway, and taunting calls to one victim's family members using her own phone from near Heuermann's office. Here's how the bail application filed Friday by prosecutors detailed the cell phone data related to victim Melissa Barthelemy:
On July 3, 2009, Ms. Barthelemy was contacted by a burner cellphone. Thereafter, the Barthelemy Cellphone was contacted by this burner cellphone on July 6, July 9, and July 10, 2009, which was the last day she was seen alive. On July 10, 2009, cell site records indicate the burner cellphone traveled from Massapequa Park to Midtown Manhattan. Later that evening, the Barthelemy Cellphone traveled from Midtown Manhattan to Massapequa with the last cell site location being in Massapequa on July 11, 2009, at approximately 1:43 a.m. On July 11, 2009, Ms. Barthelemy's cellphone was used to make an outbound call checking her voicemail from a cell site location in Freeport. On July 11 and July 12, 2009, the Barthelemy Phone made two more outbound calls checking her voicemail from cell site locations in Babylon. On July 17, July 23, August 5, August 19, and August 26, 2009, the Barthelemy Phone made taunting phone calls to Ms. Barthelemy's family members, some of which resulted in a conversation between the caller, who was a male, and a relative of Melissa Barthelemy, in which the male caller admitted killing and sexually assaulting Ms. Barthelemy. … the cell site locations of the Barthelemy Phone during these taunting calls were all in Midtown Manhattan.
"Do you think you'll ever speak to her again?" the caller asked Barthelemy's teenage sister in "a bland, calm voice" in one of those calls in July 2009, according to the New York Times, and "when she told the caller that she hoped to talk to her sister again, he replied that he had killed her after having sex with her," then hung up.
Investigators said in their court filing that Google data also revealed Heuermann repeatedly searched for news about the case, such as "Why could law enforcement not trace the calls made by the long island serial killer?" and "8 Terrifying Active Serial Killers (We Can't Find)." He allegedly sought out podcasts about the murders, as well as photos of the victims' families. Prosecutors also have evidence that the alleged killer conducted "thousands of searches related to sex workers, sadistic, torture-related pornography, and child pornography" — including porn involving 10- to 13-year-old girls.
With Heuermann in their sights, investigators sought out a DNA sample via his trash — eventually recovering the crust in a pizza box he threw away in Manhattan, and then comparing the DNA from that to the DNA of a piece of hair recovered from one of the victims' bodies.
Who is the suspect, Rex Heuermann?
Rex Heuermann, 59, was arrested in midtown Manhattan on Thursday night. He is a married father of two who lived with his family in Massapequa Park on Long Island.
Heuermann, an architect, is the founder of RH Consultants & Associates, Inc., a Manhattan–based architecture firm that has worked with city agencies as well as other clients such as Catholic Charities and American Airlines. A 2022 interview with Heuermann about his life and experiences as an architect can be found on YouTube. In the clip, Heuermann describes himself as someone "born and raised on Long Island" who has been working as an architect in Manhattan since 1987.
PIX11 News spoke to Damien Richards, an employee of Heuermann's who was hired in 2020, who was taken aback by the news that his boss had been arrested in connection to the brutal crime.
"Shocked. Shocked. Total shock. At first the shock of hearing of this, then obviously the next thing comes to my mind, what happens to my job and my family?" he told the network. On his boss's personal nature, he added, "I've never witnessed him be violent — but [he] gets aggravated. This industry is a roller-coaster ride."
How the case began
In 2010, authorities were searching for Shannan Gilbert, a 23-year-old New Jersey woman who had gone missing on Long Island, when they discovered the bodies of four women in burlap sacks, 500 feet from each other, near a parkway by Gilgo Beach on Jones Beach Island, a barrier island on Long Island's South Shore. All four women — Maureen Brainard-Barnes, 25; Melissa Barthelemy, 24; Amber Lynn Costello, 27; and Megan Waterman, 22 — were later determined to have been strangled to death.
Gilbert's body was eventually found in 2011, as were the remains of another four people across the remote area between 2010 and 2011 — including two more women, a man, and a female toddler. It's still not clear if or how some or all of those cases may be linked, but police have long believed that some were the work of a single serial killer.
Gilbert's death, which was never ruled a homicide, was later deemed by law enforcement to be unconnected to the murders of the so-called Gilgo Four, though Gilbert's family members continue to believe the cases were connected. At the times of their deaths, all five women were working as sex workers and advertising escort services on Craigslist.
In 2011, New York spoke with the relatives of the five women about their quest to find justice for their loved ones:
Cann says the police have failed to take her sister's case seriously, beginning with the first officer she spoke to. "Soon as I told him what she was doing up in Manhattan, it was like he didn't care." She speaks of the fruitless trips her husband and brother took to New York to try to find Maureen themselves, the two and a half years it took even to get Maureen's name onto the national registry of missing persons. She tells me she got her sister's e-mails, texts, and phone records herself, trying to retrace Maureen's steps. "I've been driving myself crazy for four years trying to figure out what happened to my sister," she says. "I drove myself to the point where I didn't want to get up in the morning to brush my teeth. I didn't want to go to sleep. I just wanted to figure out where my sister was. I got fired from my job. I was like, I can find another job, but I can't find another sister. Going on with my life felt guilty."
This post has been updated.