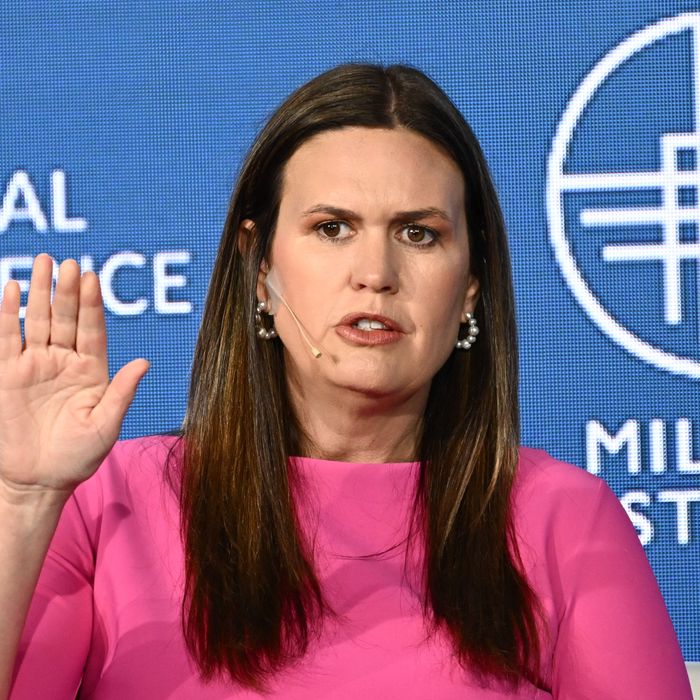 Rising star or ingrate?
Photo: PATRICK T. FALLON)/AFP via Getty Images
Donald Trump recently raised a lot of eyebrows by publicly rebuking Iowa governor Kim Reynolds for following her state's informal rule that local Republican leaders stay neutral in contested presidential contests, at least prior to the state's first-in-the-nation caucuses. At Truth Social, Trump complained that Reynolds would be nothing without him:
I opened up the Governor position for Kim Reynolds, & when she fell behind, I ENDORSED her, did big Rallies, & she won. Now, she wants to remain 'NEUTRAL.' 
The backstory to Trump's unhappiness with the Iowa governor is that Reynolds is widely thought to be in the tank for Ron DeSantis, so this may have been a preemptive strike to keep Reynolds neutral in the guise of a complaint about her neutrality. But there's another Republican governor whose neutrality in the 2024 race has to be driving Trump absolutely nuts: that of his former White House press secretary Sarah Huckabee Sanders, who is now governor of Arkansas.
Axios reports that Trump asked Sanders for an endorsement earlier this year, but she begged off until her first legislative session as governor had ended. It concluded in May, but no endorsement has ensued. Sanders's silence is all the more conspicuous because her famous father, Mike Huckabee, jumped onboard the Trump train back in March. As with Reynolds, moreover, there are suspicions in MAGA-land that Sanders is playing footsies with Ron DeSantis, as Axios notes:
Last year, she attended DeSantis' retreat for his prominent donors and some fellow governors.




She hired DeSantis' senior chancellor at Florida's Department of Education, Jacob Oliva, to be her secretary of education in Arkansas.




Sanders also has become close to DeSantis' wife, Casey, since their experiences with cancer in recent years. "Sarah reached out to Casey during her treatments and the same thing happened when Sarah had her experience," said one senior Republican close to both orbits.
You can see how this situation "frustrates" Trump, as Axios puts it. After all, he made Sanders the voice and face of his administration for nearly two years. As he said on Truth Social in March after denying he had asked Sanders for an endorsement: "Nobody has done more for her than I have, with the possible exception of her great father, Mike!" He also gave her 2022 gubernatorial candidacy his first post–White House endorsement early in 2021.
But she might think Trump owes her as much as she owes him, and she has reason to believe she could have gotten elected governor of Arkansas without his help. Her last name and close association with her father, a three-term governor, made her a 2022 front-runner. And she was also a highly regarded political operative in Arkansas and nationally long before Trump came down the escalator in 2015. Since her election, Sanders has made her own mark nationally via an anti-woke agenda reminiscent of what DeSantis has done in Florida, along with a star role offering the GOP's official response to Joe Biden's 2023 State of the Union address. Indeed, her nasty screed calling the competition between Republicans and Democrats a contest between "normal" and "crazy" showed she was as capable as her former boss of demagogic invective.
Sanders has appeared regularly on lists of possible Trump running mates for 2024. But she may have already disqualified herself for that position, even if she coveted it. Ingratitude, real or imagined, is not something the 45th president, who sometimes acts as though he deserves credit for the sun rising in the morning, can tolerate.
Sarah Huckabee Sanders is only 40 years old, so she may be playing the long game here; her national political career could reach its peak well after Trump has run his last campaign. In response to the latest speculation about "tensions" between her and the former president, she did trot out her communications director to make conciliatory noises:
"Governor Sanders loves President Trump and believes our country would be much better off under his leadership than President Biden, and that President Trump is the dominant frontrunner and our likely Republican nominee in 2024," [Alexa] Henning told Axios.
That wasn't an endorsement for the GOP nomination, however. It will be fun to see how far Sanders will take this declaration of independence from the jealous god of Mar-a-Lago.