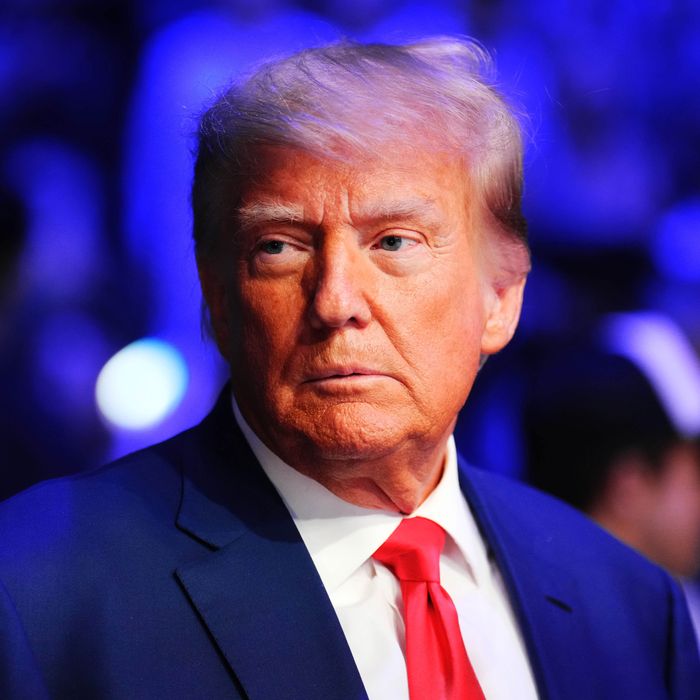 Photo: Chris Unger/Zuffa LLC via Getty Images
Donald Trump, who has made a habit of spoiling prosecutors' big announcements, revealed on Tuesday morning through Truth Social that he received a "target letter" from Special Counsel Jack Smith informing him that he is the focus of the January 6 grand-jury investigation. In a rambling statement shared via two posts, Trump said he expects he'll soon be indicted for a third time.
"Deranged Jack Smith, the prosecutor with Joe Biden's DOJ, sent a letter (again, it was Sunday night!) stating that I am a TARGET of the January 6th Grand Jury investigation, and giving me a very short 4 days to report to the Grand Jury, which almost always means an Arrest and Indictment," Trump wrote.
Last month, Trump broke the news of his impending indictment by the special counsel's office over his alleged mishandling of classified documents in an evening post to his social-media platform; the 37-count indictment was unsealed the following day.
The special counsel's investigation into Trump's efforts to overturn the 2020 election is one of several pending criminal and civil cases against the former president. As CNN explains, a target letter is usually a "strong sign," but not a guarantee, that an indictment is coming:
Justice Department regulations allow for prosecutors to notify subjects of an investigation that they have become a target. Often a notification that a person is a target is a strong sign an indictment could follow, but it is possible the recipient is not ultimately charged.




Those notifications aren't required, but prosecutors have the discretion to notify subjects that they have become a target. Once informed, a target has the opportunity to present evidence or testify to the grand jury if they choose.
But former U.S. Attorney Joyce White Vance said this means Trump will almost certainly be indicted. "In a normal case, sending a target letter signifies someone is firmly in DOJ's sights. Sending a target letter to the former president is virtual confirmation Jack Smith intends to charge him," she told USA Today.
While Trump claimed he's been given a "very short 4 days to report to the Grand Jury," it's unclear what that means about the timing of an indictment. Politico noted, "Targets of criminal investigations rarely speak to grand juries, and Trump has not exercised that right in the two other criminal cases in which he's been charged."
While it's not clear what charges Trump might face, Smith's office has reportedly been examining multiple aspects of his elaborate campaign to steal the presidency. At least two grand juries have been hearing evidence related to Trump's efforts to stay in power in 2020, according to the New York Times, and various former Trump officials have testified, including Jared Kushner, Rudy Giuliani, and Mike Pence.