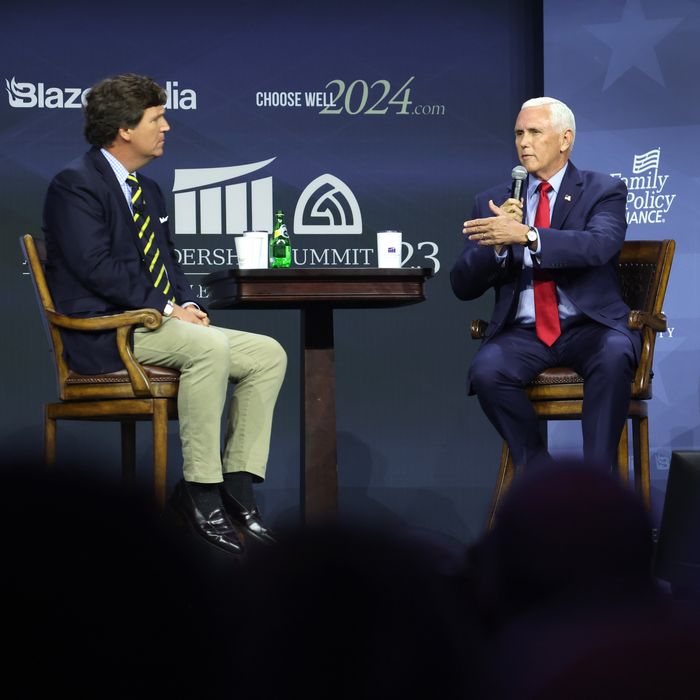 Mike Pence got sandbagged by Tucker Carlson at what should have been a great event for the former veep.
Photo: Scott Olson/Getty Images
Going into the Family Leadership Summit in Des Moines on Friday, the big story was whether Donald Trump's contemptuous decision to skip the presumably obligatory cattle call for Republican presidential candidates before a large and influential crowd of conservative evangelicals would damage his candidacy. Trump aside, however, the big question was whether one of the dark horse candidates stalking the former president and Florida governor Ron DeSantis would have a breakout moment at the day-long event. Former vice president Mike Pence, whose intimate ties with the Christian Right go back decades, and Senator Tim Scott, who has been delivering a decidedly religious pitch to voters in Iowa, were thought to have a real opportunity to shine in this very churchy venue.
But the star wasn't Scott or Pence or anyone else thumping a Bible, and Trump's snub was all but forgotten. For that matter, the traditional culture-war concerns of the Christian Right got short shrift. Instead, designated candidate interviewer Tucker Carlson and his personal obsessions were the center of attention, as the Des Moines Register's Brianne Pfannenstiel reported:
Gov. Kim Reynolds signed into law a six-week abortion ban at one of Iowa's largest gatherings of conservative Christians Friday, but issues of life and faith largely took a backseat in interviews with 2024 Republican presidential candidates. Former Fox News commentator Tucker Carlson grilled a half-dozen White House hopefuls on Russia's war with Ukraine, immigration policy and election security — at times exposing the candidates as being out of step with many in the crowd who cheered on the former Fox News commentator's tough questioning.
And Pence got the absolute worst of it, getting actually booed by the crowd for his defense of the U.S. commitment to the defense of Ukraine. Scott did better, but his effort to talk scripture and do a preacher-like stroll across a stage where he and Carlson were seated came across as forced and evasive. Towards the end of his 25-minute slot at the beginning of the day, he evaded a pointed Carlson question about issues on which he disagreed with his donors, and did an extended version of his "personal story" of a faith-based rise from poverty that didn't seem to stir up the crowd.
Former Arkansas Governor Asa Hutchinson's "interview" epitomized Carlson's turning of the tables on the candidates. Aside from having to parry Carlson's criticism of his decision to veto legislation banning gender-affirming medicare care, Hutchinson gave the former Fox News star the opportunity to boast that he had taken "zero" COVID booster shots — over which the crowd went wild.
Former governor and Trump administration diplomat Nikki Haley did reasonably well, but a notable chill hit the audience when Carlson got her to admit Joe Biden won the 2020 election.
Oddest of all, the candidate who shone most at this overtly conservative Christian assemblage was professed Hindu Vivek Ramaswamy. The format played into his strength as a glib debater who is hard to out-maneuver. And more importantly, he out-Tuckered Carlson on the issue of Ukraine, not only categorically opposing past, present, and future U.S. aid to Ukraine, but advocating a forced "peace" deal that would give Russia most of the territory it is pursuing in exchange for a Putin break with China. The tech tyro also got applause for arguing that "censorship," not Trump or treason, was at the bottom of the January 6 assault on the Capitol.
By most accounts Ramaswamy is not a real threat to the standing of Donald Trump (whom he frequently defends and channels) or to Ron DeSantis. So in an important respect the Floridian was one of the day's winners. And DeSantis himself, who has gotten snuggly-close with Family Leader president and Trump antagonist Bob Vander Plaats, did pretty well in the final interview of the day, which gave him an opportunity to anticipate Carlson's shtick. He was evasive on two key Carlson questions (one involving his willingness to sign a national six-week abortion ban, and another clarifying U.S. goals in Ukraine), but managed to deliver most of his stock-speech applause lines without Carlson getting him off track. The crowd particularly loved his best implicit criticism of Trump: his claim that he would have fired Anthony Fauci at the very beginning of the COVID-19 pandemic.
An interesting but unanswerable question is how Trump might have fared had he attended the Family Leadership Summit. It's hard to imagine him being dominated by Carlson like several or his rivals. But then again, Trump's strategy so far is to avoid any venue in which he can even be compared to other candidates (which will make the Iowa Lincoln Day state Republican fundraising event on July 28, at which all the candidates are scheduled to appear, even more significant).
As for Carlson, being the Big Dog in Des Moines was likely a welcome development after a year in which he lost his job at Fox News and then had to watch his new Twitter platform crumble. Don't be surprised if his name starts popping up again on 2024 GOP veep lists — though probably not those connected to Mike Pence or Asa Hutchinson.