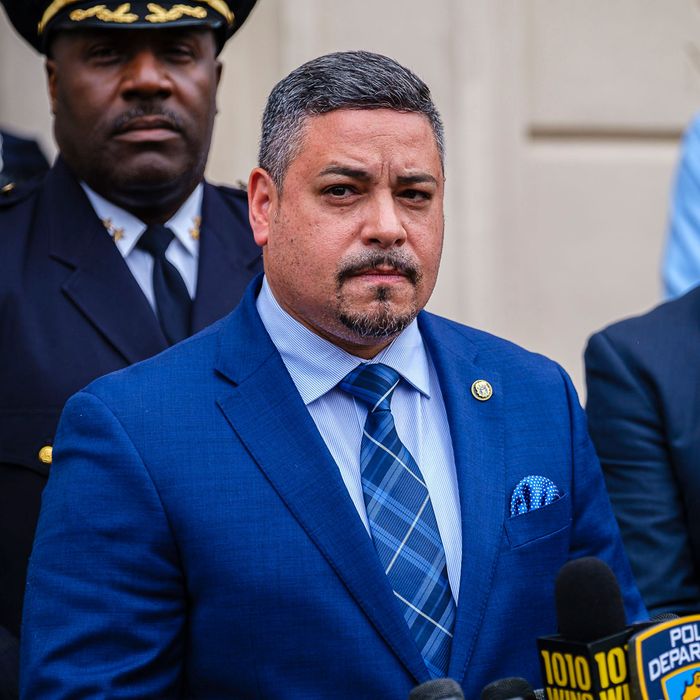 Photo: Jeff Bachner/New York Daily News via Getty Images
On Monday, Mayor Eric Adams announced that he had selected Edward Caban to be the next NYPD commissioner. Caban's elevation was widely anticipated after being named interim commissioner following the abrupt resignation of his predecessor Keechant Sewell. He will be the first Latino to lead the NYPD in the department's history.
The mayor also announced the appointment of Tania Kinsella, a 20-year veteran of the force, to be the next first deputy commissioner. Kinsella will be the first woman of color to hold that position in NYPD history.
Adams made the appointment official on Monday during an event at the department's 40th Precinct in the Bronx, the district where Caban began his career. The crowd full of administration officials and elected politicians behind Adams was enthusiastic during his remarks, breaking out in chants of "Eddie! Eddie!"
"We knew we had to appoint the right person, and I saw in Eddie, long ago, the possibilities. I knew that there was something special about Edward Caban," Adams said.
The mayor described Caban's partnership with Sewell, and his work as deputy commissioner, as playing a key role in the improvements of crime rates across the city during his tenure, calling him "the right choice for right now."
Unlike his predecessor — Sewell was hired from the Nassau County Police Department — Caban has spent his whole career with the NYPD. He first joined the force in 1991 and rose through the ranks, later becoming an inspector in 2015. Caban became deputy commissioner in 2022 under Sewell.
After being sworn in, Caban noted the historical nature of his appointment and thanked his father, a former transit officer, for mentoring him.
"My journey with NYPD began over 32 years ago, a young Puerto Rican kid from Parkchester standing on a foot post in the South Bronx just like thousands who came before me and thousands who have come after me. In those days, the top bosses of the police department didn't really look like me. Police Officer Eddie Caban could not walk into the 40th precinct, look up at the leadership photos hanging on the wall and envision his future," he said.
Caban also thanked Sewell for the work she did during her 18 months as commissioner and for her friendship, saying she "smashed the glass ceiling that lingered on for far too long" as the first woman to helm the department.
Caban is known to have a good relationship with Adams who, the New York Times reports, pushed personally for him to be made first deputy commissioner position, citing law enforcement sources. It's been alleged that Sewell, who did not publicly give a reason for her resignation, left in part due to perceived micromanaging from Adams and Deputy Mayor Phil Banks, both former NYPD officers themselves.